Letting Scheme for Subsidised Sale Developments with Premium Unpaid 2019 - Hong Kong Housing Society
Recent Focus
Landlord and Tenant (Consolidation) (Amendment) Ordinance 2021
Landlord and Tenant (Consolidation) (Amendment) Ordinance 2021 (hereinafter referred to as "Amended Ordinance") which has been implemented on 22 January 2022 aims to regulate tenancies of subdivided units of buildings through adding a new Part IVA to the Landlord and Tenant (Consolidation) Ordinance (Cap. 7).
Tenancies of premises under Hong Kong Housing Society's "Letting Scheme for Subsidised Sale Developments with Premium Unpaid" (hereinafter referred to as "Letting Scheme") have been added to the section "Excluded tenancies" under Schedule 6 of the "Amended Ordinance", and exempted from the application of Part IVA.
All existing terms and conditions of tenancies applicable for leasing either Entire Flat or Individual Bedroom(s) under "Letting Scheme" still remain applicable and are not affected by the Amended Ordinance's new provisions on tenancy control of subdivided units.
Applicants who are interested in joining "Letting Scheme" can first read the Application Guide applicable to Owner Application or Tenant Application available in this website. In regard to the designated subsidised sale developments of Hong Kong Housing Society and Hong Kong Housing Authority under the Letting Scheme, please visit "About Letting Scheme > Designated Developments" in this website and search by estate name or by district. Enquiries can be made via "Letting Scheme" Hotline at 8108-0678.
Owner and Tenant Information Sharing Platform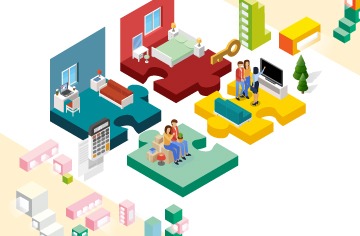 Online Application

Certificate of Participation – Owner

Certificate of Participation – Tenant